AccountEdge tech tips
Want to know about all the tips and tricks to help you get the best out of your AccountEdge software? Look no further…
---
How to attach documents in the Bank Deposit window: May 2018
---
In AccountEdge 17 you can now attach a document to the Bank Deposit window. After creating a deposit slip, scan the deposit slip and attach it to the deposit for easy access to the details of the deposit.
1. From the Banking command centre, click Prepare Bank Deposit. The Prepare Bank Deposit window appears.
2. Click Attach. The Attached Documents window appears.
3. Click Attach. The Open window appears.
4. Select the document or image you wish to attach to this record.
5. This procedure will create a copy of the document you have selected. If you wish to make a link to the original source, select Attach document as a link in this window.
6. Click Open. The Attached Documents window re-appears. The document is listed under the Name column. If you selected Attach document as a link in previous step a check mark appears under the Link column.
7. Enter all applicable information regarding the document you have attached.
8. Click Close.
---
Add notes to your bank reconciliation: April 2018
---
In AccountEdge 17 you can add notes to your bank reconciliation which are included in your reconciliation report. You might want to mention adjustments or if something extraordinary happened.
In the Reconcile Accounts window click Add Note. Add your note and click OK.
When you look at your Reconciliation Report the notes will be included at the bottom.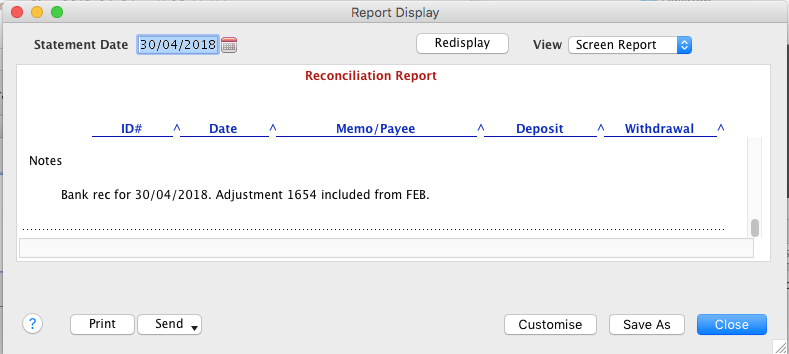 ---
Attach documents to bank deposits: March 2018
---
It can be hard to keep a track of the source documents for your bank deposits once they're filed away.
But now you can now attach documents like receipts to the Prepare Bank Deposit window.
After creating a deposit slip, scan the deposit slip and attach to the deposit for easy access to the details of the deposit.
This feature is available in the latest version of AccountEdge. For more information, see Bank Deposit – Attach Documents
---
Can't open your AccountEdge company file? : February 2018
---
Uttering "Open sesame!" worked for Ali Baba and the 40 Thieves, but sometimes opening an AccountEdge company file can prove a little trickier.
There's a few things which can prevent a company file from opening – here's a few checks which might unlock the mystery:
Check the company file extension
AccountEdge company files have a ".myo" file extension (for example MyCompanyFile.myo). If the file extension isn't .myo, it's not an MYOB company file. Make sure it's not a company file from MYOB AccountRight, our Windows PC software. These company files also have a .myo file extension, but won't open in AccountEdge.
Check the company file name
If it's definitely an AccountEdge company file, try renaming it (ensuring you retain the ".myo" file extension), and keep the file name under 24 characters. If you're using AccountEdge Network Edition, stop and restart FileConnect then try opening the file again.
Check that the company file isn't set to "read-only"
This can occur if the company file has been copied from a removable storage device, like a USB stick.
Here's how to check:
Go to the location on your computer or network where your company file is stored.
Hold the Control key on your keyboard and click once on the company file.
Choose the Get Info option.
Ensure the Locked option is deselected.
Still can't get in? Check this support note for additional troubleshooting.
---
Add a message to your invoices: November 2017
---
Whether it's "Merry Christmas!", "Happy Holidays!" or "We're closed over Christmas", why not add a personal message to your end of year invoices? It's a great way to spread some cheer or announce business changes.
There's a set of default comments that come with AccountEdge. You can modify these or add some more. Access the comments from the Lists menu > Sales & Purchases Information > Comments.
When you're entering an invoice, select your comment.
To learn more about comments, see the AccountEdge help (Australia | New Zealand)
---
Wage advances: October 2017
---
"I want it, and I want it now!"
So said a certain little girl when visiting a chocolate factory. But she's not alone. Some employees may request future wages paid in advance – particularly as the silly season approaches.
AccountRight makes it easy to pay a wage advance, then withhold the amount from a future pay to 'repay' the advance.
All you need to do is set up is an asset account, a wage category, and a deduction category. You'll also be able to keep track of what's been paid in advance and how much has been repaid.
For all the details, see this AccountEdge help tip.
A wage advance might not be a golden ticket, but it's a sweet deal for you and your employees.
---
Update AccountEdge for the latest MAC OS:  September 2017
---
On 26 September Apple is releasing its latest MAC operating system: OS X 10.13 High Sierra.
If you're using the latest AccountEdge version, you might need to install a small patch to ensure AccountEdge is compatible with OS X 10.13 High Sierra.
Compatible versions:
AccountEdge Pro v16.5
AccountEdge Network Edition v16.5
AccountEdge Basics v5
To check for the update in AccountEdge, go to the AccountEdge menu and choose Check for Product Updates. A message like this will display:
Just click Install Update to make it happen.
If no update message appears, you've probably already installed it. To check, go to the AccountEdge menu and choose About AccountEdge, then check the Release info.
After installing the update, AccountEdge Pro and Network Edition will be Release 21.4.8.
AccountEdge Basics will be Release 21.4.1
---
Preventing credit card fraud: August 2017
---
Whether you trade online or offline, your business is always at risk of fraudulent transactions resulting from stolen credit cards or other buyer scams.
But don't worry – here are a few things to look out for to protect your business and minimise the risk of customer disputes and chargebacks.
Is the customer placing an unusually large order, or large quantities of orders in a short period of time?
Is the order being paid for using multiple cards? This could suggest the buyer is trying to avoid card limits.
Do you have an order where the shipping address is different to the billing address?
Are you receiving multiple orders to different customers at the same address, or is the address from an unusual location?
Is it a large order or expensive goods where the customer requests next-day or expedited shipping?
Can't contact the customer via phone or email?
Has the customer asked you to pay for freight which they'll reimburse later?
While these activities won't always be fraudulent, if it seems suspicious it's worth taking the time to check.
Learn more about protecting your business
---
Amending payment summaries in AccountEdge: July 2017
---
Made a mistake on your payment summaries? Left something out? No problem – you can run the Payment Summary Assistant again to generate updated payment summaries to provide to your employees.
What about the EMPDUPE file?
If you haven't submitted the EMPDUPE file to the ATO, running the Payment Summary Assistant again will generate a new EMPDUPE file which you can lodge electronically with the ATO.
If you have already submitted the EMPDUPE file to the ATO, you won't be able to generate an amended EMPDUPE file from AccountEdge.
Instead, you'll need to complete a manual payment summary form (available from the ATO) to lodge the updated information. On this form you'll need to place an X in the box indicating it's an amended payment summary.

For more information on correcting a mistake on a payment summary, visit the ATO website.
---
Year-end made simple: June 2017
---
The end of the financial year is a busy time for everyone, so who wouldn't want a helping hand?
We have lots of EOFY resources to get you through. To start with, here are some handy videos:
Preparing payment summaries and closing the payroll year
For step-by-step instructions, the AccountEdge help has got you covered:
If you run into trouble, visit help.myob.com for access to all our videos, help articles, tips and troubleshooting info.
The community forum is also a great resource with hundreds of experts who are happy to share their insights and answer your questions.
A Super Idea!
Process your next super guarantee early (before June 30), to qualify for a tax deduction in the 2016/17 year!
To do this, simply submit your super payments via PaySuper, or MYOB's super portal by MYOB's processing deadline of 25 June.
Find more great EOFY tips and tricks to help you through at  our EOFY hub.
---
Viewing and applying credits & debits in sales and purchases: May 2017
---
There's an awesome new feature in AccountEdge which makes it easier to manage credits and debits.
When entering an invoice, if the customer you've entered has credits on file, the total amount of the credits will appear in the upper right hand corner of the invoice.
You can access the credits by clicking on the zoom arrow before the amount.
The Sales Register – Returns & Credits view will appear showing a list of the credits on file. You can then apply the credits to the invoice or pay a refund.
Upon recording a sale, if the preference is set to warn you if a customer has an outstanding credit when recording a sale, you'll have the option to apply the credit to the sale being created.
When entering a purchase, you'll have the same options to view the open debit amount on the purchase as well as apply the debit to this purchase or another purchase.
See the AccountEdge help page to learn more about customer credits and supplier debits.
---
Work with AccountEdge email templates: April 2017
---
In the latest versions of AccountEdge (AccountEdge Pro/Network Edition v16 and AccountEdge Basic v5), you can customise the templates used when sending emails.
This lets you add that personal touch to your emails, which better reflect you and your business.
Not only can you personalise your email subject and message, but you can now include data fields (bits of information from your company file, like a contact's [First Name] or your [Co Name]).
Email templates can be created for sales, purchases, statements, receipts, payment notifications, pay slips as well as a new set for emailing anyone from the Card File.
You can set up as many templates as you like, and choose the template you want to use when emailing.
For more info on email templates, and all the new features in the latest AccountEdge, see the help centre (Australia | New Zealand).
---
How do you process a customer refund in RetailManager?: March 2017
---
For example, let's say a customer has purchased a $129 coffee percolator on the account they have with you as a supplier – only now they decide to return the item for a full refund.
First, enter a negative sale. When entering the sale, choose the same stock item, and enter -1 for the quantity (making sure that the price is the same price that it was originally sold at).
In the Payment Details section, choose Account(as you would have done for the original account sale).
When the sale has been recorded, there's one last step: pay these two sales against each other so they disappear from the Debtor Payments window.
Press Shift+F6 or choose Debtor Payments from the Transaction menu. Enter your staff number and the customer's number. You'll see both transactions listed: one for $129 and one for $-129.
Now just pay $129 on the first line and $-129 on the second line (as shown above). Commit the transaction without selecting a payment method.
This will clear both of the transactions from Debtor Payments, without you needing to receive any payment.
---
Backpacker tax and AccountEdge: February 2017
---
From 1 January 2017, tax rates changed for working holiday makers who are in Australia on a 417 or 462 visa. This new tax rate is commonly known as the 'backpacker tax'. To use this new tax rate, you needed to register with the ATO by January 31.
If you didn't register but need to pay working holiday makers, you'll need to assign them the applicable Foreign Resident tax table. If you're not sure which tax table to use, check with the ATO.
We'll be releasing an update later this year to cater for the new tax rate. Until then you can pay working holiday makers using the Withholding Variation tax table set to the applicable rate.
For all the details on setting this up, see our help topic Withholding the 'backpacker tax' in AccountEdge.