SheStarts 2018: Why CX could be the missing piece in advocacy
Lily Dempster has made a career out of trying to get people to do stuff. Now she's doing it with tech.
She's the founder of The Neighbourhood Effect, a platform designed to help people make more environmentally conscious decisions in their day.
It does this by giving them suggestions of what they can do based on how they live their lives currently – and showing them how to do it.
"Rather than just telling people 'hey, you should draft-proof your house'," Dempster told The Pulse, "we'll have a series of embedded videos showing them how to do it, the amount of time it will take to do it, how much it will cost, what they might save in heating bills and where they can go to get the supplies."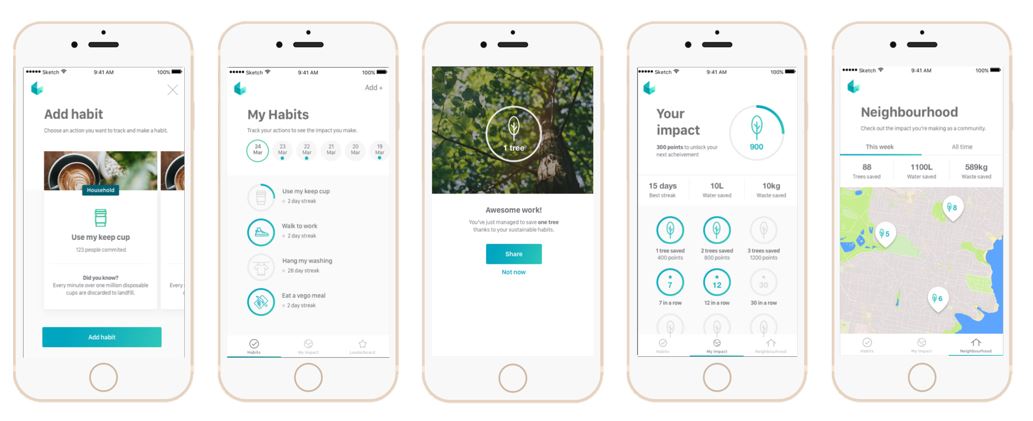 As anybody in social advocacy would know, getting anybody to take an action, even as simple as signing a change.org petition, can be like herding cats.
With more and more NGOs and climate groups trying to inspire people to take action, Dempster hopes that a new approach marrying behavioural economics and Customer Experience (CX) design will bear fruit.
"I wanted to be sure that I was contributing something new. An issue with NGOs the world over is that there's a lot of groups all basically doing the same thing," said Dempster.
Her approach begins in psychology and ends with well-designed code.
---
A nudge in the right direction
---
Dempster said after growing up in a household where social justice issues were discussed around the dinner table, she found herself studying law – and eventually became interested in climate change as a social justice issue.
"Climate change is the biggest social justice issue for our generation," she said.
"Things like poverty, issues around undocumented migration, the spread of diseases – the impacts of climate change are really unjust in the sense that the poorest communities will be the worst affected."
Her studies eventually led to her to the Department of Prime Minister and Cabinet under Kevin Rudd, where she was part of a team specifically set up to mirror the UK's Strategy unit.
READ: How to use psychology to get paid faster
This UK unit was connected to the UK's 'nudge unit', which used behavioural-economics principles such as loss aversion or social norming could be used to form policy which had a better chance of influencing behaviours.
It was the first time Dempster had run across behavioural economics, and she was hooked.
"It's not sexy, but for nerds it's a bit sexy," said Dempster.
"Sustainable behaviour is really difficult to get right, otherwise it would have been done by now. This is really about how I can apply those techniques to try to create new behaviours."
Eventually, she decided she wanted to make a more direct impact by joining advocacy group GetUp as a climate campaigner. There she saw what effect grassroots action could have.
---
Change in action
---
To this point, Dempster was focused on policy and getting that side of the equation right – but one campaign showed her what the impact of getting everyday people to change their behaviour could be on climate-change mitigation.
Through a grassroots push, GetUp was able to get 15,000 people to switch to a carbon-neutral electricity retailer – with another 4000 switching to a green-power provider.
"From that campaign, we were able to have double the impact of a community solar farm, and that farm would have taken five years to get off the ground. The campaign took us four months," said Dempster.
That's when a lightbulb went off.
"From that, I said 'okay, if a couple of thousand of people spend a few minutes online each just changing some of their habits, you can have a really rapid impact'," said Dempster.
The idea for The Neighbourhood Effect started to take hold, but with no technical chops it was put on the backburner until the SheStarts opportunity came about.
---
When behavioural insight meets beautiful design
---
As part of the equity investment BlueChilli puts in as part of the program, they provide development support for the founders.
It's where Dempster learned the importance of getting CX design right when trying to inspire a person to take an action.
For Dempster, CX and design was the missing piece of The Neighbourhood Effect puzzle.
"Good [user-experience design, or 'UX'] is increasingly becoming a baseline requirement for digital product," said Dempster.
"In terms of the behavioural-economics stuff we wanted to explore in the design and content, the UX is a crucial piece.
"If we didn't have that, then all the well-crafted copy in the world isn't going to make a difference."
She said the test-and-learn iterative focus of an accelerator like SheStarts meant she was able to work with designers on the fly to change designs and test new approaches.
"Applying a behavioural economic lens to a digital interface means we can test different approaches and see what's most effective for different actions," said Dempster.
"That's really powerful, because doing behavioural trials to see what works and what doesn't can normally take a lot of time and effort"
The next step is getting the mobile application set up and in the hands of consumers.
"There's a really large group of Australians who care about climate change and sustainability, and they would switch products or change their behaviour if we made it just a little bit easier for them," said Dempster.
The Neighbourhood Effect is currently crowdfunding until 18 July to create a mobile application. If you want to know more, head here.