Does your accounting firm have a marketing plan?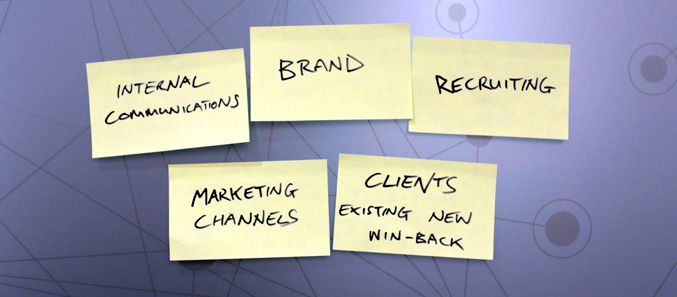 The next graduate arrives, interviewing for a position at a small to medium-sized accounting firm: your accounting firm. This graduate will be one of the top performing employees for the employer of their choice.  It takes you a while — nearly fifteen minutes into the interview, to fully realise that they are actually interviewing you.
Methodically, the graduate carefully crafts their answers and questions. When you look up from your notepad, direct eye contact takes a fraction of a second to re-connect: this graduate is absorbing the environment, the workspace and your body language. As you take notes, this graduate is also checking boxes on their own mental checklist: assessing you as a partner and the firm as a whole.
They don't fit into your standard interview guide or assessment criteria: they are impressive in every aspect that a young aspiring graduate could be. They are energised and prepared to embark on a exciting career — just not with your firm.
You think you lost her when you answered a simple question about marketing:
"We don't do marketing. We don't need to do it. We rely on word of mouth, and it brings in enough work."
You were also hopelessly prepared for the discussion about your aspirations for the firm: it's growth, talent management and career paths. Although you help others plan and grow their businesses, you neglect your own business in need to generate your day-to-day cash flow, pay your current employees and convert those word of mouth opportunities.
What about the marketing?
Marketing is an essential part of your business. You must market. Every touch point is a customer experience that helps shape how your brand is viewed and determines if potential and existing customers choose to spend their next dollar with you.
If you have not done so recently, set aside your next team meeting to white board the following way of looking at your business:
A fresh look at your brand: Regardless of the size of your business, you need to establish a brand identity and tone of voice to ensure brand consistency. Any good marketing book will help you shape your brand to appeal to your target market.Your logo, values, premises, standard of dress (corporate or casual) and way you answer the phone all need to be consistent with your brand. Does your current branding appeal to the type of customers in your overall strategy?If you specialise in medium-sized businesses in a certain industry, your brand should appeal to your target market.
New client acquisition: What is your marketing plan for new clients? Have you set a target? Are you planning to grow? Develop a plan to reach new customers beyond traditional advertising. What conference are you speaking at or what topic is your white paper on? When did you last generate a newsworthy story about your business that the local press covered as a news item, instead of a paid advertisement?
Existing client base: Your existing customers already know you. Do you have a loyalty or referral program? Should you? Look at potential ways to better help your customers by up-selling or cross-selling additional value added services to meet their needs.
For example, are they aware you also offer a new product or service? How are you marketing this into your existing customer base?
Client retention and win-back: Do you have a process to identify at-risk clients or know which ones you want to win back? Is there a communications plan to re-engage with lost clients or those on the brink? Your team should discuss this.
Brand hygiene: This is the basic of maintenance of your branding values and image across everything you do. I think of this separately to building your brand — this is more than consistency of outdoor signage, business cards, websites and letterhead. Brand hygiene extends into everything you do and the overall customer experience.If you are about quality, accuracy and professionalism, you can't have unclean toilets, worn carpet or torn magazines on the coffee table. Your brand needs to permeate through everything you do. It is not just a logo; it is every aspect of the customer experience.
Internal Communications: Large companies have internal 'comms' teams that specifically handle internal communications. They write content for and design newsletters, intranet sites (employee-only websites) and marketing materials and programs for employees. This is important, and having structure to it helps, even in small teams. How you — a partner, senior or team leader — communicate internally has a powerful impact on how your employees see the firm. It will impact staff retention, recruitment, and staff morale.
Marketing channels: Selecting smart, strategic ways to use the right mix of media channels for your business goes hand-in-hand with taking a fresh look at your target market. Test strategies and learn approaches for the channels that suit your target market. Get your marketing mix right: be strategic and measure the return on investment.
With the proliferation of media options these days, television, print, radio and digital advertising are more and more affordable. Of course social media has become a game changer, and content creation may play heavily into your media mix decisions, together with the use of events, sponsorships and outdoor marketing.
Recruiting: I began this story talking about an interview and will end it in the same way. In developing your unique marketing plan, put yourself into your customers' and employees' shoes (potential and existing) and take a good, hard look at yourself. If you don't invest in marketing, doesn't that mean you are not planning to grow? Are you happy with the status quo? Others are networking — should you be as well?
In my fictional introduction, both the accounting firm and the interviewee were marketing themselves to each other. Not having a marketing plan to grow your business or investing in marketing says something about you. Are you on social media? Should you be? It says something to your target market if you are — or are not.
While in this example it is a bright employee that was lost due to poor marketing (the message received was we are not planning to grow), it could well have been a major new client walking away. Your brand promise and marketing must be tangible in the customer experience, or you will lose credibility with your customers.