Find the commonality and talk to more strangers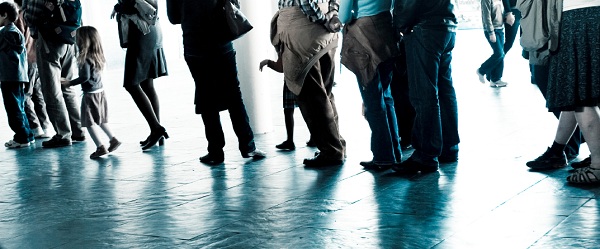 It can be hard to strike up a conversation with someone you don't know without being seen as a nutter, but if you have something in common, it's quite a different scenario.
At a conference, we are quite happy to talk to strangers in the coffee queue at break time about how great the last session was because we have something in common. At a rock concert, it's okay to chat to the person next to us about the band because we are both there to experience the music.
At a football match when the team is losing, it's okay to moan and groan to the person in front of us about the team's poor performance today and reminisce about the glory days because we both love the team.
Smokers will stand out in the freezing cold weather to get their ten-minute caffeine fix and chat to other smokers from different departments at the office, because of commonality. Commonality is the key reason that talking to a stranger is acceptable.
It's human nature I suppose, although I have no answer as to why just because we have something in common with another person, we feel quite happy to strike up a conversation. Two teenagers would not strike up a conversation at the checkout queue but they would perhaps if they realised they were wearing the same cult T-shirt under their jackets.
Back out on the street, we walk along with our heads down, eyes averted, headphones plugged in or playing with our smartphones, and all the time avoiding contact with anyone else at all costs. Whether we are simply trying to get from A to B as quickly as possible, or shopping in the mall, it's pretty much the same scenario – we want to avoid any contact.
If only we could find the commonality with a few more people around us, I wonder how more enriched our lives would be. Who would we meet one day that would take us on a journey whether it is business or pleasure, on a journey that had that chance encounter never happened, we would otherwise have missed out on?
What have your experiences been, what positive "chance" meetings have you encountered from striking up a conversation with someone you don't know?